Disclaimer & Cancellation Policy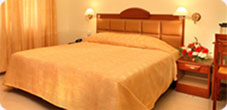 All reservations are subject to availability. Reservations made on this site are considered conditional until a confirmation number is given to the guest. Hotel may, from time to time, communicate with the guests, to re-confirm the reservations and to prevent any simulated bookings.
Should the guests wish to amend or cancel any reservation made through the website, they should contact the reservation desk through E mail (info@parkcentral.in) or telephone (+ 91 484 2335537/47). The Hotel will not be liable should it fail to provide its products and/or services due to unavailability in such cases.
The hotel reserves the right to impose a cancellation fee in the event of a late cancellation notice or a no-show at the hotel.
Cancellation within 7 days of arrival: 50% Retention Charges. Cancellation within 48hours prior to the arrival: 100% Retention Charges. there will be a cancellation fee equivalent to 1 night's room charge (for the number of rooms booked) at confirmed rate (Excluding tax).
For early checkout, you are responsible for the entire reservation and will be charged as such if the remainder of the reservation cannot be rebooked.
For No shows 100% cancellation charges shall be applicable for the whole period for total number of rooms booked
Refunds only through cheque/bank transfer.
Refunds usually take 15 working days.
Park Central (A unit of Hotel Siena Central Pvt Ltd) does not guarantee acknowledgement of reservations or transactions made on this site arising from unforeseen circumstances, omissions or errors that may sometimes occur.
In the event that the hotel, for reasons beyond its control, need to reject or change a confirmed reservations it will use all reasonable attempt to facilitate the circumstances. Park Central (A unit of Hotel Siena Central Pvt Ltd) will try to arrange accommodation in a similar category hotel and shall provide you transportation to such hotel and transportation back to our hotel if we are able to accommodate you during the particular stay period. However if no alternative is provided to the Client, the hotel will return any deposit made and considered it cancelled. This is the limit of the hotel's liability.
Notwithstanding the above general policy issued, guests shall be bound by the cancellation policies that may be issued by the hotel in its confirmation mail.