Culture Zone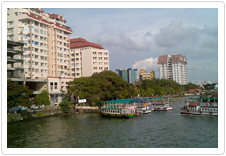 Marine Drive
Marine Drive is a picturesque promenade in Kochi. It is built facing the backwaters, and is a popular hangout for the local populace. Marine Drive is also an economically thriving part of the city of Kochi. With several shopping malls it is as an important centre of shopping activity in Kochi. The walkway has two contemporarily constructed bridges, the Rainbow bridge and the Chinese Fishing Net Bridge.The view of the setting and rising sun over the sea mouth, and the gentle breeze from the Vembanad Lake has made Marine Drive an important tourist destination in Kochi. Hundreds of people (both natives, and tourists) throng the walkway during the evenings.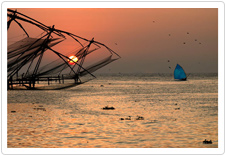 Fort Kochi
Once upon a time, it was a simple fishing village, which later became the first European township in Indian. Fort Kochi has an eventful and colourful history to tell about its reputation as a seafaring commercial town. An Italian traveler once remarked, 'if china is where one can make money, then surely Kochi is the place to spend it.' The Portuguese, Dutch, and British shaped the beautiful town; therefore we can see the remains of the Indo-European architecture even today in Fort Kochi.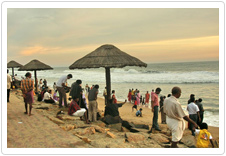 Cherai Beach
This cool and calm beach bordering Vypeen Island is ideal for swimming, and dolphins, which are occasionally seen here, attract tourists. Paddy fields and coconut groves nearby, makes this place more beautiful.